with Bonnie Kissam, M.A., Feldenkrais Practitioner
Bonnie Kissam, M.A., was fortunate to study with Moshe Feldenkrais, D.Sc., in his last two years of teaching, 1980 and 1981, with Anat Baniel as his assistant. Bonnie was also fortunate to complete Anat's program for Children with Special Needs in 2012, the year her book Kids Beyond Limits was published.
Bonnie offers lessons in Sarasota, St. Petersburg on Fridays and Orlando by appointment or will come to your area for a weekend with several children.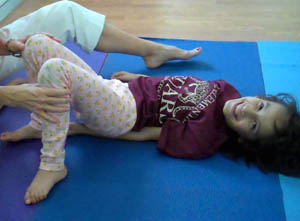 Bonnie uses movement and the brain's ability to sense, adapt and grow to guide your child's attention and help him/her differentiate his sensory experiences in a way that expands his thinking and overall ability The intention is to help your son or daughter engage in what he/she is sensing until more optimal strategies for a new action can occur.
Through gentle, specific movements, sounds and sensations your child is guided to sort for differences and expand his/her physical and cognitive abilities. Infants and children, even those who have not begun to use the spoken language, can learn to differentiate what they sense, hear or see and learn to 'move' beyond limitations.
Bonnie's Premise:
The best process for helping a child to learn is to optimize existing capabilities.  Many children need more experience in sensing subtle differentiations in action and thought to support their development.  We keep in mind, if a child could 'do it' he would.
 "First, I connect with a child on a non-verbal level to help her attend to her actions. Second, I help her sense differences and support the developmental process that creates variations to any given movement, sound or thought. Third, I focus on offering the kind of information she can use to learn and create new action."   Bonnie Kissam, M.A.,
The video below shows Bonnie working with little Ms. R. learning to roll easily.
 Watch how Bonnie initiates the movement but then how Ms. R. organizes and performs the rest of the action.
 With attention to how we move, learning expands into all areas of life and has exponential growth qualities.
 Appointments with Bonnie Kissam:
The program of ABM works best for the child if she/he receives 2-4 lessons of 30-40 minutes each within a few days of each other. Bonnie K. is available in Sarasota during the week and organizes one weekend a month for appointments specifically for children.
CONTACT:
Bonnie Kissam, M.A.
Cell phone: 941-587-4535
Email bk@bonniekissam.com
OR: bonnie@feldenkraisinsarasota.com
Offices: or AT HOME ONLINE
Sarasota:
Ionies 1241 Fruitville Road, Sarasota, FL 34236 (map link)
St. Petersburg (On Fridays):
Living Room Yoga, 8424 4th Street North in St Petersburg (near Gandy Blvd. – map link)
Orlando:
(by appointment only)
AT HOME ONLINE   (by appointment – Call 941.360.2248)
Fees:
Bonnie will Travel: On-Site Appointments
Bonnie will come to your town to work for 2-3 days.  Organizers would need to provide transportation, accommodation, and a comfortable room for lessons.  (Minimum of two days).
Each day includes lessons for three to four children (two individual lessons for each child, each day).
Cancellation Policy
Please give at least 24 hours notice to avoid a cancellation fee.Links:
 For a worldwide listing of certified NeuroMovement® professionals serving Children with Special Needs, please visit: http://www.neuroconnect.world
Please visit:  video of — Elizabeth — and her successful story
http://video.google.com/videoplay?docid=-3714789944552371761  ((BONNIE THIS VIDEO ADDRESS IS WRONG))