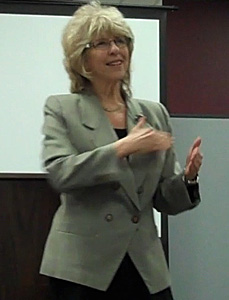 "Bonnie is an inspiration and a quiet treasure here on the west coast of Florida and her passion is real."
C.C., Client
Her presentations are interactive with visual, auditory and personal participation for integrative learning. She combines her knowledge of how we learn and how to use movement as a way to expand one's possibilities in thought and action along with her easy presentation style she's developed through the years.
With her many years as a Seminar Presenter audiences leave feeling excited at aquiring new knowledge and practical learning tools that they can use every day at work and in their personal lives. Audience members begin to see that through heightened awareness and thinking differently they can make subtle changes in how they do an action which can have long term affects on their comfort and overall well-being.
Popular topics:
Interview with your Inner-view – learning to listen to your inner voice
The Seven Principles for Maintaining Lifelong Agility
Redesign Your Walk – The ABCs for Better Balance
FROM TIGHT JAW TO LIGHT JAW
Kiss your way to a more OPEN YOU!
The Competent Child – encouraging non-verbal communication
Personal experience with Anat Baniel's   9 essentials
Being Green- Keep — Toe, ankle, knee and hip joints and fingers, wrists, elbows and shoulder joints — oiled and open naturally
Move from an AchyBreaky  to an EzeBreezy Walk