SPECIAL:  Join our Walking FB Group
Lightness of Walking Program for a better balanced and pain-free WALK!
Again in OCTOBER 2021!!   
You will find your walk, lighter and easier, NOT by WALKING,  but by re-designing your As..Bs…& Cs!!
Alignment, Balance & Coordination
"This last Tuesday changed everything. I went for a walk with my daughter and the baby and made it completely around the neighborhood with zero pain and I never got winded. I was able to breathe through my nose the entire time. That NEVER happens!!"

SW 2020 
Cost:  includes replays, learning materials, and one individual session on Zoom
REGISTER
**  Contact me if you'd like to register after classes begin.
Program Description
This is a 12 hour program over 6 weeks.  Each week you have the opportunity to re-experience yourself sensing an easier Alignment, Balance, and sense of Coordination through specifically chosen Awareness Through Movement lessons. Between sessions, you have the time and opportunity to integrate new thoughts and actions into a NEW walk.  This NEW WALK fits you TODAY and takes YOU into your future, well-balanced and pain-free.
As a child, you developed patterns for your Alignment, Balance & Coordination. In your youth, your ABCs were light and easy. However, with injuries, accidents, and habitual actions, most WALKS become less efficient. Feldenkrais' Awareness Through Movement lessons offer an opportunity for you to experience new variations and create a Lighter Walk, AND, the process you use in this RE-DESIGN will last a life-time.
FREE eBOOK!!!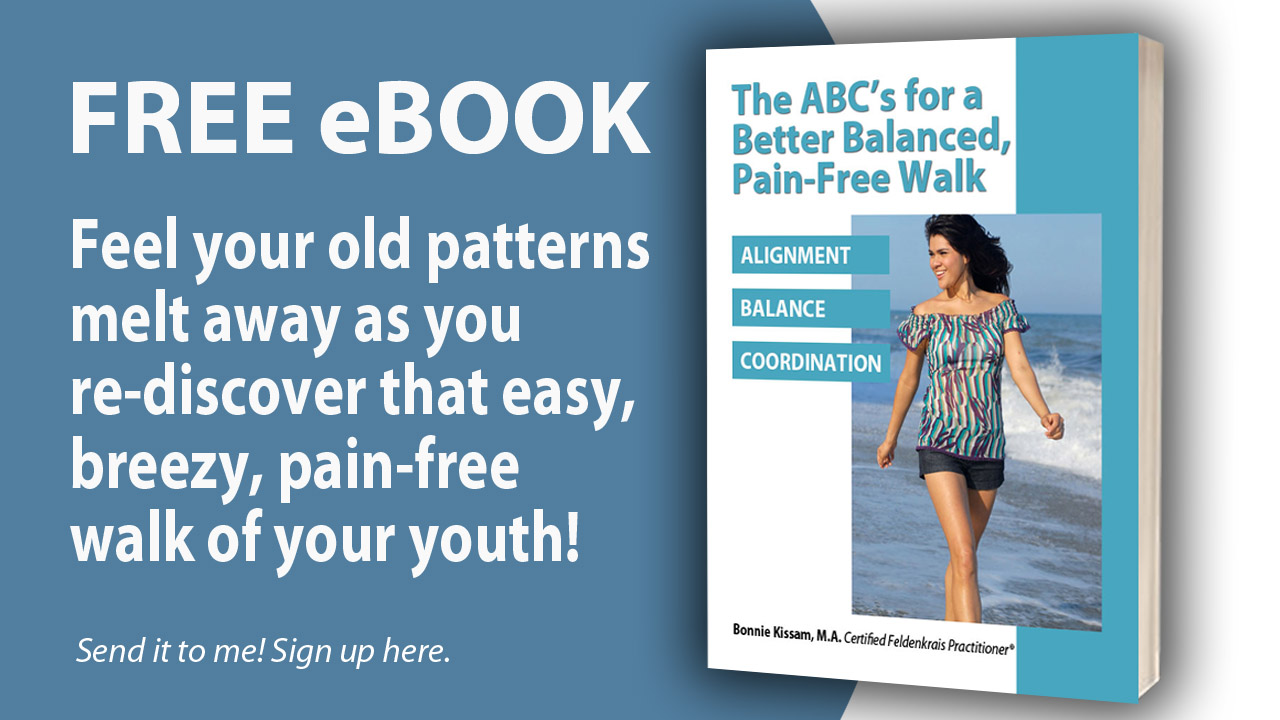 Zoom Sessions Preparation
ON ZOOM: If you want to be coached you need to have a camera on you.
You will need;
1. a comfortable place to lie on the floor in a quiet room with pillows or towels as support,
2. a computer or laptop you can put on the floor or on a desk tilted toward you on the floor, so I have a side view.
3. a light above computer or aimed at you so I can see you
4. Once you are registered you are invited by email the link to get in.
Important Zoom Notice
Need Zoom support click here.
Please begin updating all your clients to Zoom 5.0 now.
After May 30, 2020, all Zoom clients on older versions will receive a forced upgrade when trying to join meetings as GCM Encryption will be fully enabled across the Zoom platform. Click here for more information.
ZOOM Preparation Tips from Lavinia
Links:
Visit www.lightnessofwalking.com
Learn more about "The Feldenkrais Method"